KA STORY #1
A "whatever"
DREAMER
or
AN INSPIRING POET
IN HIS TRAVELLING STORIES?
I met him when the first rays of the day crept down the roadside. The heavy rain had already been replaced by the rustling foliage raining down to the city, marking the approach of a new season.
The beautiful melody of You, Me - Both by Jonatan Mollberg was playing. The piano piece is closely associated with In The Book project, which he worked on at the age of 25, right in the heart of Paris. Over at the bar counter, it seemed that everything was ready to welcome the "first guest" of the day.
Treating myself to a refreshing iced latte while reviewing the clearly planned-out script, I still can't seem to memorize all the fine details; perhaps because it was my first time to play host, and perhaps because my first guest was Quang Dai, whom I had admired for a long time. The smell of ground coffee perfectly mixed with the faint scent of Ka Koncept store and created such a pleasant feeling. When he came, I would definitely offer him the same drink that I was having. What's more splendid than enjoying a cup of iced latte in Saigon's early morning?

We started the filming with some casual talk before delving into more personal thought. His face was radiant with a smile, though sometimes he couldn't hide the fatigue from the cold.
Quang Dai shared about his love for cats, his inclination to wear white clothes as well as how endearing Saigon is to him. He read " Et si c'était vrai" (If only it were true).
His hobby is watching films at home, especially those that are full of aesthetics and authenticity by Director Tran Anh Hung and Director Wong Kar-wai.
Besides the questions answered definitively, there were certain times when he suddenly stopped to decide between "Thinker" and "Dreamer", between the past, present and future. His answer, to this day, is still deeply imprinted on my mind: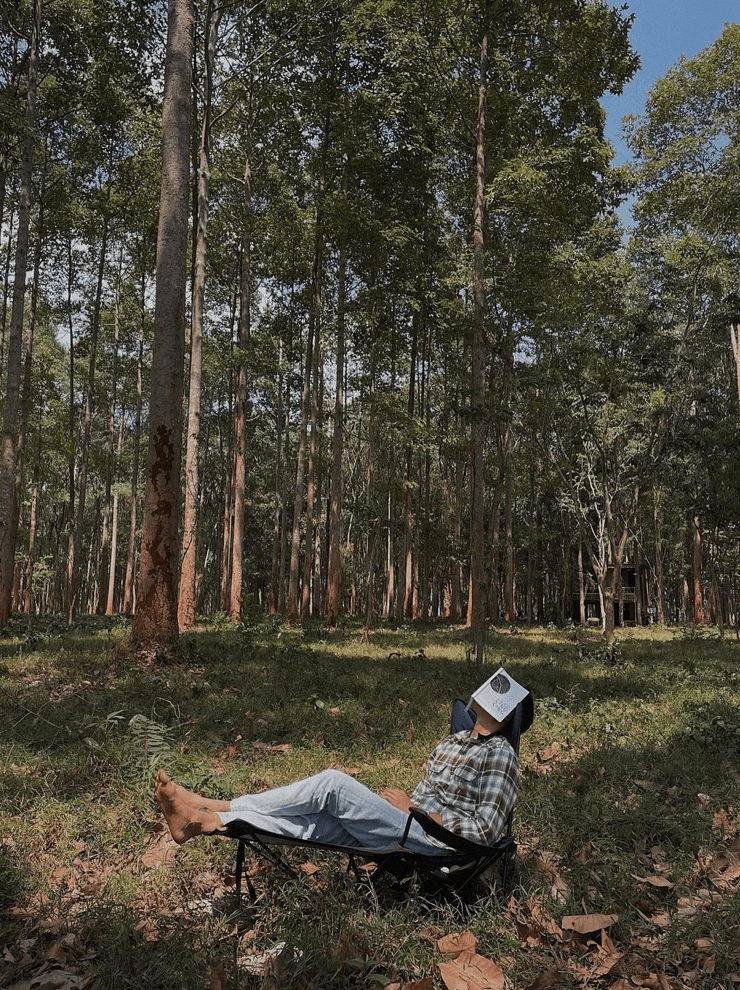 What makes #whatever appear throughout your life?
Back in the day, my catchphrase was "whatever", so I used the hashtag #whatever to represent who I am as a person. Later, when I didn't know how to describe the projects I had conducted, I just used the hashtag #whatever. As time passed, it came to a point that whenever everyone thought of that phrase, they thought of me.
I find that life should not be confined in a box. I can be this, I can be that, but I can also be both this and that. I am not necessarily something obvious, something definite. Whatever.
This apply well to my life. I can both manage this job and complete that task. For example, I could run my own business projects, and I am also a model directed by the shoot director. Generally speaking, life doesn't have to be in a comfort zone, but you can take the liberty to be yourself.
So in your opinion, is it possible to "do everything spontaneously"?
Well, it depends on individual choice. Everyone's life is up to how they decide it to be. Maybe one way is right, maybe the other way is right, or neither of them even makes sense. In the end, it's up to the individual to decide which way they feel the most comfortable to go after.
When did your passion for travel begin?
I was fortunate. When I was a child, my family took me to different places and visited tourist attractions with majestic scenery around Vietnam, from Da Lat, Hue to Hoi An and Hanoi. I couldn't remember exactly how those trips across Vietnam were like, but the unforgettable feeling at that time was: WOW. Since then, I've been into traveling and see travel as an important part of life. That passion has been constantly growing with me through the years, and I believe it will last a lifetime.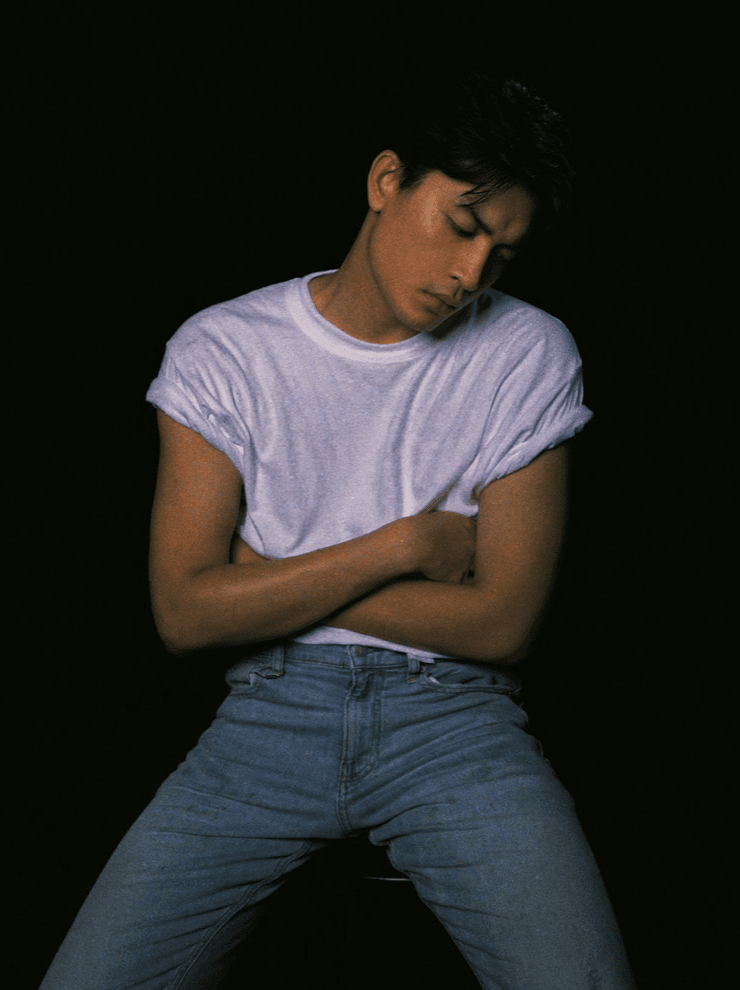 When you first arrive at a place, or maybe somewhere that you have visited a couple of times, what do you remember best about the place?
I think the important thing is the feeling at that time.
In the past, when I was with my family, I didn't have much autonomy, nor did I have many emotions. When people said, "Oh this place is beautiful", I thought it was beautiful. And that was all I knew.
Therefore, I will talk more about the first trips with friends. Living an independent life and making your own decisions are undeniably memorable moments for anyone. There were those stressful days when I was studying at university, my friends called me out at midnight, and then we ended up packing everything to go to Da Lat. Perhaps for my-current-self, this would sound absolutely normal, but in the early years of college, it was a huge decision. I would say, sometimes things just happen, and that is when unforgettable memories are born. What's important is not about how the land is like, but more about how you feel when you are at the specific place. If you feel relaxed, the land is definitely comfortable. If we feel depressed, under pressure, and pessimistic, it would be a sad land. It is us and our emotions that determine the perception of our surroundings.

Spending time on trips means time invested in other relationships will be more or less affected. Then, how do you balance your life?
I think each person can't acquire everything in life. If we have a little of one, we will have to lose a little of other. That is just natural because each person only has a limited amount of time. If you spend time on one thing, you won't be able to fully complete another. If you try to invest your time in doing everything equally, nothing will work out eventually. Life is like that, and we should accept that. We need to understand what our priorities are at one time, what to do during another time, as well as how to allocate our time appropriately and effectively. For instance, you can spend an hour per day on social relationships and the rest on living your own life. Gradually, relationships that we feel we could keep will continue to grow. Sometimes there are relationships that I feel won't last long: friendship, love, life... then I would just "let it be" and slowly it will fade away.

At the age of 25, you had the opportunity to visit Paris. It is the capital of light, the city of splendor. Can you share more about your plans for that trip? After all, what did Paris leave in you?
For me, every trip has its value. At the age of 25, I got the chance to go to Paris. It was a beautiful, romantic memory of Autumn. At that time, I was traveling alone in Europe. It's been too long, so to recall with the correct words, I would not know how to share those memories. I just remember it was a beautiful and meaningful trip.
EM CÒN RẤT ẤN TƯỢNG MỘT CHI TIẾT TRONG THƯỚC PHIM CỦA ANH. KHI ANH HOÀ MÌNH TRONG DÒNG NGƯỜI TRƯỚC QUẢNG TRƯỜNG, VÀ ĐÓNG VAI NHÂN VẬT TRONG TRUYỆN "NẾU EM KHÔNG PHẢI MỘT GIẤC MƠ". EM TIN ANH ĐÃ CÓ MỘT KHOẢNG THỜI GIAN TUỔI 25 THẬT ĐÁNG NHỚ.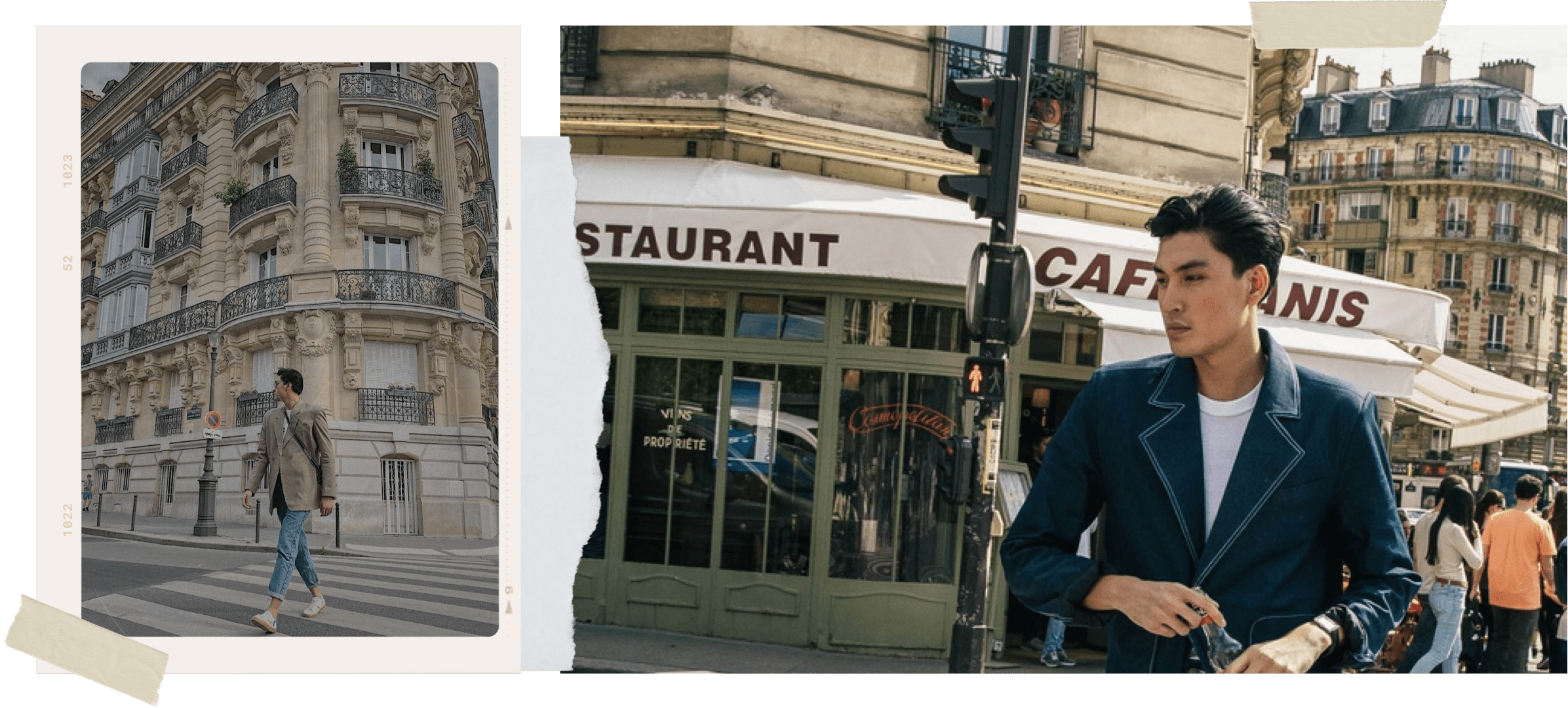 Whenever we talk about travel, it is difficult for us to have a clear plan, because there are many external factors and things can pop up so suddenly. Are your plans heavily affected by the unexpected?
I think yes, but as I said about my character, I always "go with the flow", keep the "whatever" attitude and live in the present moment. I am not the person who would "complain" all the time and I just enjoy my life in my own way. We only have 24 hours in a day, so make sure you use your time wisely. We are not always compelled to do exactly this thing at this time.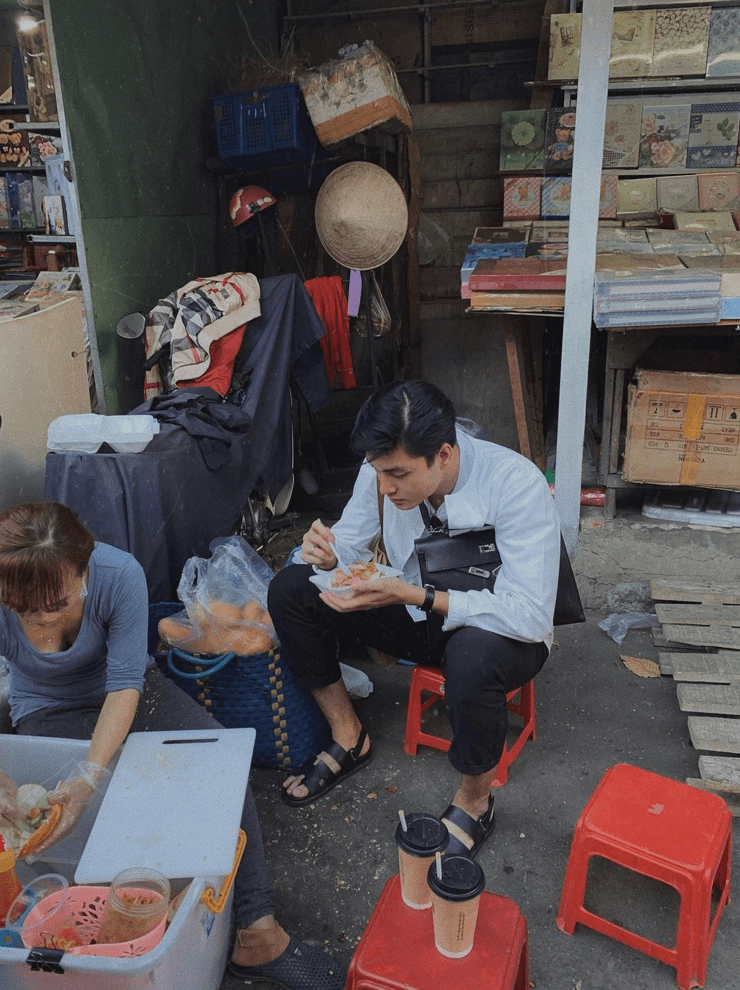 As a person living in Saigon, how would you envision a short trip to explore this city?
From my perspective, Saigon is a very beautiful city with a pleasant life. I will start a new day by "dragging" my friend out to drink coffee on the sidewalk, observing Saigon in the early morning when parents are taking their children to school. I feel that Saigon was very Saigon at that point of time. It is still my habit to sit at sidewalk cafes to feel life slowly drifting by. After that, I will take my friends to the Independence Palace, the first place that I ever worked. It was also my dream at one point. And then, walking around Saigon is also a very interesting thing. In the morning we can stay in the center, spend the noon under the foliage of District 5 and go back to District 1 in the evening to eat and drink. Saigon has everything.
Every moment of the day Saigon has its own interesting aspects to offer. To choose a moment during the day in Saigon, which time would you prefer?
I would prefer Saigon at noon on sunny days when the city is in its truest form. Sitting in the gardens and staring at the trees, looking at the normal daily life, I feel like there is no such place. In the hustle and bustle of city life, it's also poetic. People are simple, friendly, and very affectionate.
People say that Quang Dai inspires young people through the act of travelling. What do you think about this?
I feel really thankful and appreciate it greatly. Actually, I travel or post pictures on social media for myself, and I share those moments mostly to express my feelings. But when I receive the support and love from everyone, it proves that what I am doing is valuable for others. I feel really lucky to be able to do what I love and to be loved for it. In fact, thanks to my followers on social media, I feel more energized and positive in my life.

What advice would you give young people before going on a trip?
Do what you like, definitely. If you can, do it right away, or else you will be distracted by other life problems. Everyone is all grown up and matured, so it's fine as long as you do what you think that you can bear its responsibility.
THỰC RA MỖI NGƯỜI ĐỀU CÓ CÁCH RIÊNG ĐỂ TIẾP CẬN VÀ LÊN KẾ HOẠCH CHO CHUYẾN ĐI CUỘC ĐỜI CỦA MÌNH. QUAN TRỌNG LÀ CHÚNG TA VẪN GIỮ VỮNG NHỮNG ĐIỀU CỐT YẾU CHO BẢN THÂN VÀ KHÔNG LÀM ẢNH HƯỞNG ĐẾN BẤT KÌ AI. QUA NHỮNG CHUYẾN ĐI NHƯ VẬY, THƯ VIỆN KÍ ỨC CỦA MỖI NGƯỜI SẼ NGÀY MỘT DỒI DÀO HƠN VÀ SẼ TRỞ THÀNH HÀNH TRANG CUỘC ĐỜI CỦA HỌ.
Regarding the world of scents, can you share when was the first time you owned a scent?
The first scent I owned was a Christmas present from a friend of mine. It's a very simple scent, but I still use it till now, as it is pleasant but fit for every occasion.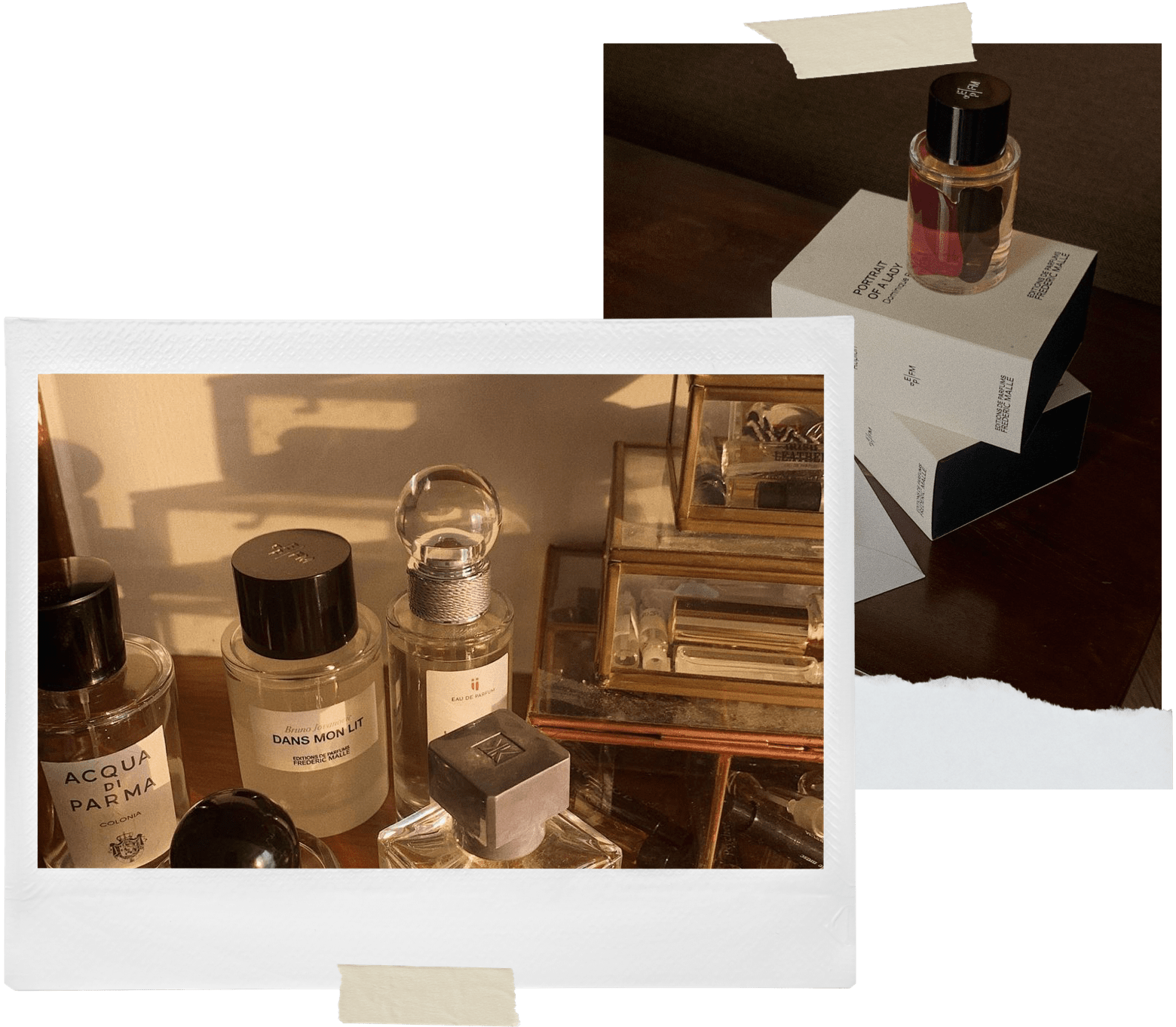 When you choose a scent for yourself, which nuance do you usually prefer?
I don't like strong scents, so I usually go for a balance between warm, light and airy scents.
NƯỚC HOA CHỦ YẾU DỰA TRÊN CẢM XÚC, VÀ NÓ LÀ MỘT PHẦN CÁ TÍNH ẨN CỦA MỖI NGƯỜI. CÁCH CHÚNG TA CHỌN MỘT MÙI HƯƠNG THƯỜNG ĐƯỢC VÍ NHƯ MỘT BỘ TRANG PHỤC VÔ HÌNH NHƯNG CÓ TÁC ĐỘNG HỮU HÌNH. NÓ THỂ HIỆN MỘT PHẦN CÁ TÍNH CỦA NGƯỜI MẶC.
VẬY HIỆN TẠI, TRONG BỘ SƯU TẬP MÙI HƯƠNG CỦA ANH ĐÃ CÓ BAO NHIÊU THÀNH VIÊN RỒI ?
Rất nhiều. Anh vừa mua, vừa được tặng, vừa trao đổi, nên là rất nhiều.
Between preserving scents in a dedicated area, displaying them in the living room so that everyone can admire, and keeping them for yourself, which way will you choose?
Whichever way, actually. Some perfume bottles can serve as interior decoration. If I like the scent only and not the bottle design, or if there are too many of a same scent, I would rather keep them in my personal area.
You once told a joke that "we must be beautiful as well as fragrant to find our true love". Can you share more about this?
I do think that's true, so we have no other way but to try our best. Beauty means being beautiful both in form and in our soul, inside out. The scent is there to make us feel more confident, hence we can gradually attract the other more and more.
Do you have any "secrets" that you want to share with everyone on how to choose and use scents to express your true personality?
For me, it would depend on the place, the time, and the person you meet. If you go to work, I think fresh, dynamic and elegant scents will be a suitable option to show that you are a professional. If you go on a date, warm scents will be more appropriate. The choice of scents should take into consideration the message you want to put across and the place you are going to. Therefore, I think there is no universal formula, and also each scent is different on individual body. That's why I think you should just enjoy and be yourself.
I don't want to advise you to use this scent or that fragrance, because you are the one to wear it anyway. Only then will you become the most "authentic" version of yourself.
When discussing scents, we tend to attach them with memories, because scents are easily connected with memories and personal experiences. Have you ever thought of special memories, maybe the lands you visited, or your relationships when you use a perfume?
Normally, I use perfume just because I like to use that scent on that particular day. People may consider me as a person filled with moods and memories, but actually my life is pretty simple. When I'm happy, I'm happy. If I'm not happy, then I'm not happy. I am not the one to complicate my life. Scent is just scent, emotion is emotion, memory is memory. I don't attempt to link all those concepts together. It's not that it's bad, but I'm just not that kind of person who could put those into words. Sometimes, it could be for convenience. I have something to do that day. There's only that perfume in the car. Then it's my choice, for example. My life is full of spontaneity. To say I use a scent because it reminds me of certain memories would not really be #whatever. That seems a bit forcing and biased to me. If I have bad memory about someone, would that make me stop using a scent? I'm not that fastidious.
In the end, regarding scents or art in general, we should not impose fixed standards or place too much emphasis on details. If we can approach from a more objective and simple perspective; things will become much less stressful.
Thank you very much for your genuine sharing.